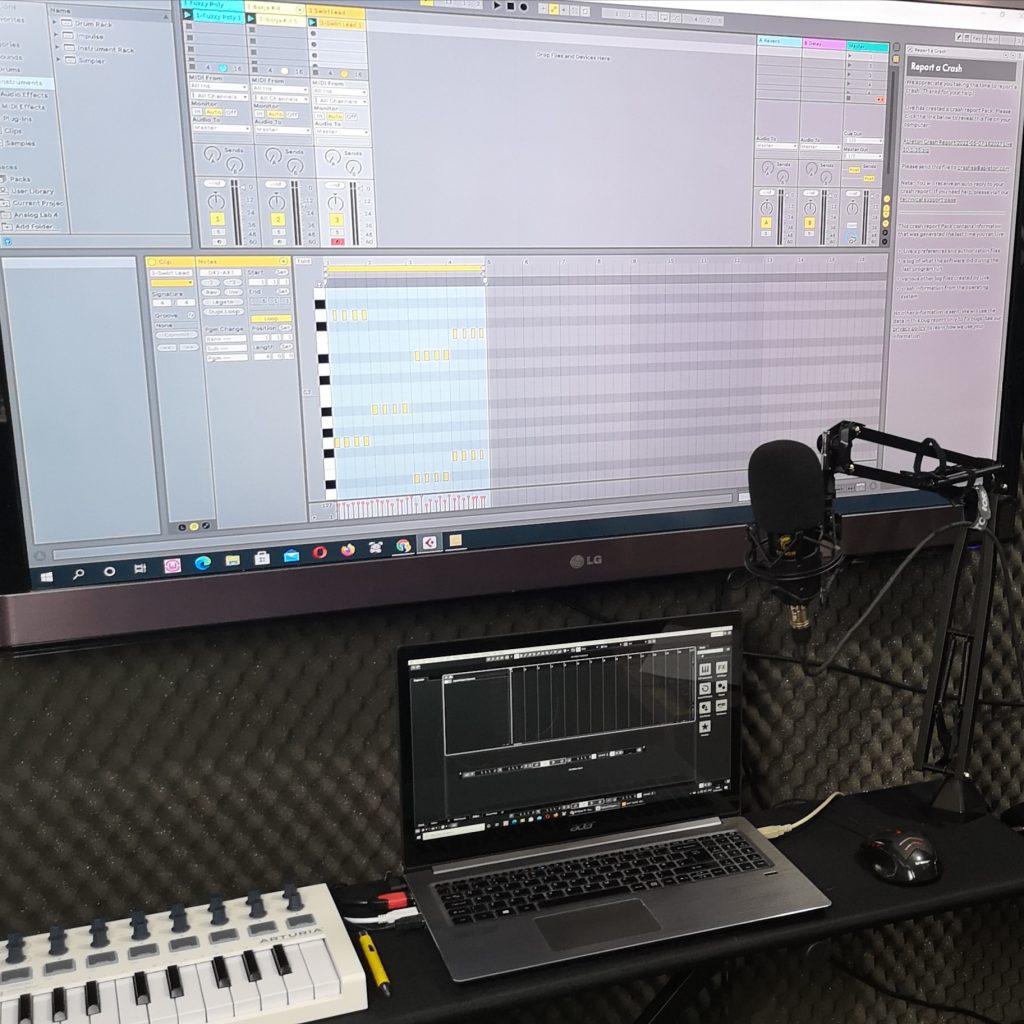 In this article we will go trough popular DAW Software that is available at the market right now. We will discuss pros and cons of different products and present common tips and tricks for each presented Digital Audio Workstation software.
What is DAW Software
Music production – before computer era
Before the era of dynamic development of personal computers and software – the field of music production was available only to a select few – mainly due to the enormous costs that had to be incurred to equip a recording studio with the necessary equipment.
It was hard to imagine that the average person could afford to become a music producer – at home.
Equipment such as a mixing console, amplifiers and preamplifiers, microphones and loudspeakers was very expensive and only wealthy production companies could afford such luxuries.
Currently, the world of production, and in very high quality, has become available to almost everyone.
It is enough to have a computer and appropriate software – the so-called DAW.
Digital Audio Workstation abbreviated as "DAW", which is nothing else than a digital workstation which is a computer program used to work with audio. It is used for recording, editing, editing, mixing and mastering.
What does DAW is used for?
Professional DAWs are designed to work together and even completely replace full-size consoles found in recording studios. Is it really possible? In our opinion, it is nowadays.
Maybe this is a risky opinion, but we will not leave it without supporting it with a few arguments. Huge mixing tables and consoles that take up entire rooms are a thing of the past, even though most prestigious recording rooms are still located.
All the necessary tools needed by producers are widely available and their cost in relation to the quality they offer is staggering. The second issue is knowledge and universal access to it.
Due to the fact that it is easy to become a music producer and the profession is no longer as niche as it was years ago – knowledge of music, DAW software and composition is widely available on the Internet.
What are the most popular DAWs in 2021?
DAWs can be considered as full-fledged tools for working with sound, even because most modern VST instruments use the "same" algorithm as their analog, or simply full-size equivalents.
Some manufacturers of popular plug-ins claim that their reproduction of a certain instrument provides 99% of the same sonic character as the original, along with artifacts that occur when playing on physical equipment.
The most top 5 popular digital workstations are (Alphabetical order) :
Which DAW is the best?
The answer to this question is very difficult and it is very similar to the question: which car is the best?
The simple answer is: it depends what you want to use it for and what your personal preferences are.
It is worth pointing out at this point how individual programs differ from each other, since, like cars, they basically serve the same purpose: cars drive and DAW programs allow you to create music.
Main purpose of DAW
Some DAW software are used strictly designed to be used in the studio (for example Cubase) because they main purpose in to replace hardware mixing console and tapes for recording.
Some of them are design to be more conviction in live performances. For example Ableton Live is considered as optimized to live performances and looping than to interface and smart integration with MIDI Controller .
FL Studio, on the other hand, in its early days was a drum sewer and a program for making so-called beats. Over time, it has transformed into a full-fledged workstation where you can prepare a complete arrangement and mix.
To sum up, it can be said that in virtually any of these top programs you can do whatever you need – but depending on the interface – some operations will be easier than others.
DAW Connectivity with Real instruments
DAW software usually comes with Visual Instruments (VST), but it's not the only possibility.
Very often, in music production – real musicians perform live music and with the help of a DAW we can capture it – both MIDI data and soundtracks – audio.
Because of that fact – Digital Audio Workstation could be easily integrated with external (physical) instruments also known as hardware instruments.
One of the types of instruments that we most often combine with DAW programming are keyboards: digital or stage pianos, synthesizers or workstations and arrangers.
This page provides a tutorial on how to connect a keyboard instrument to a computer and a DAW.
Where to find tutorial for each software?
Classic on-line courses:
Cubase Video tutorials
I found Cubase as the best DAW for conservative music genres. If you mostly use analog instruments vocal and less synth – it may be the best choice. If you wish to know how to configure connections between Keyboards , Digital pianos and Hardware loop stations – check this free Cubase video tutorial.
It is worth mention and Steinberg company introduced ASIO Standard with is now used widely by other producers to.
Cubase offers great flexibility in connectivity and complex audio setup. You can create many Audio Buses that collects audio (analog and digital sources) form many parallel inputs which is pretty useful in big projects (lot of instruments)
FL Studio video tutorials
In my opinion FL Studio interface is much better optimized for modern music styles – electronic and percussive – when we have less analog recording and more synth and drums patterns that changes over the time.
Of course, this does not mean that FL Studio cannot organize recording sessions with live instruments and vocals. You can do it, but I think the interface is a bit more cumbersome for that.
If you look tutorial for FL Studio – especially how to use it with Virtual Instruments (VST) and how to fix latency problems, this playlist of YouTube may be great for you.