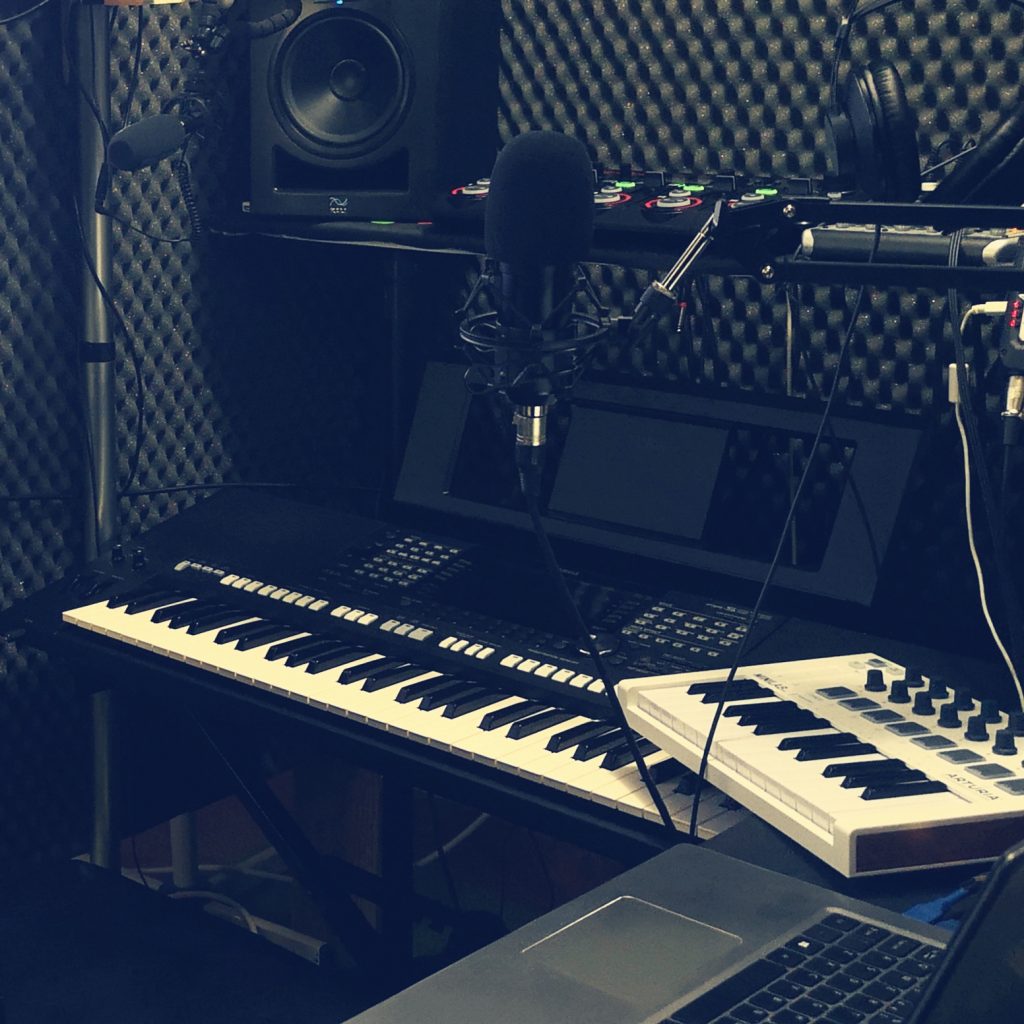 If you are a happy owner of a keyboard with a USB-MIDI interface – you can easily connect it to your personal computer.
Connecting will provide you with many benefits that will improve the comfort of use of the instrument and give you more freedom in creating music.
In this article, I will show you 3 scenarios that you can use to connect your favorite instrument to the computer.
Why people want to connect their keyboard instrument to computer?
There are several reasons why people may want to connect their computer with keyboard instrument. Here are to most common that are worth consider:
To use keyboard instrument as high quality MIDI controller that is convenient to play with and has a large number of keys and better feeling than ordinal mic MIDI controller.
To use sound engine from your keyboard or synth instead of VST
To have nice MIDI editor Graphical Interface within DAW where they can use mouse , clipboard and computer keyboard
To grab samples, loops and patterns from hardware keyboard into DAW
To record whole performance in DAW for editing adding vocals and final mix
Keyboard and computer – connection types
Due to the fact that there are several methods of connecting the computer with the keyboard, we will present 3 popular connection scenarios with diagrams.
The main differences are whether we want to use the sound module of our instrument or we want to use virtual – software instruments (VST Plugins)
We will show you both MIDI connections and pure audio connections – in case your instrument does not have MIDI or you want to copy samples and drum tracks to your computer.
Scenario 1. Keyboard instrument works only as MIDI Keyboard
In this type of connection we will use our instrument only as a control keyboard aka MIDI Controller.
This option is interesting if you have a keyboard that sounds unappealing or you want to extend it using virtual instruments (VST) For example, a convenient full-size keyboard digital piano can be used to play VST instruments such as Analog Lab, Nexus 3 or Avenger like it is show in this video on Youtube.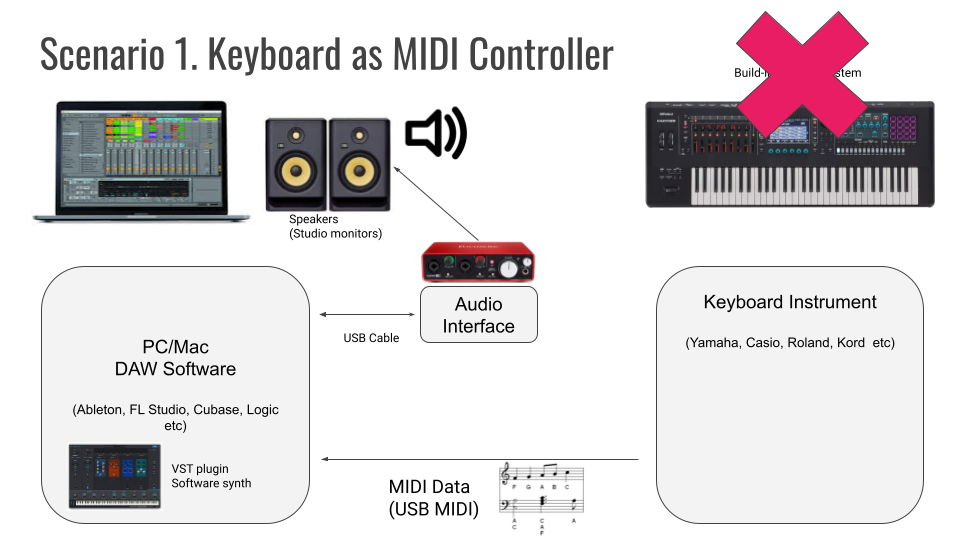 We use only VST Software synth to generate sound
Keyboard will be used only as MIDI Controller (1 way communication)
No speakers of keyboard will be used (we should mute them)
Scenario 2.  Keyboard instrument is primary sound engine
This type of connection allows the computer to be used as a convenient tool for editing loops, notes, and other MIDI messages. Our instrument remains the sound module. The computer allows for convenient editing of the arrangement, the use of multi-track midi recording and editing on a large monitor.
This option is a super convenient solution for keyboards that do not come preloaded with MIDI editing, step recording, etc.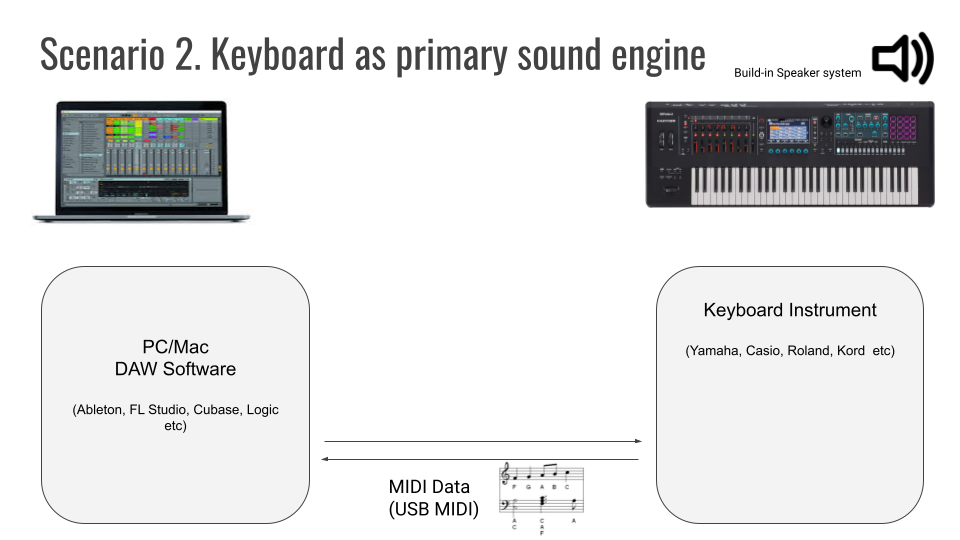 We don't use VST Software synth to generate sound
Keyboard will be used both as MIDI Controller and Receiver (2 way communication)
Speakers of keyboard will be used
DAW will be used for easy and fast MIDI editing (mouse and clicks)
Scenario 3. Keyboard instrument is Audio source (no MIDI)
In this connection we do not use MIDI but only digital audio data. This type of connection is useful if your instrument does not have a MIDI interface or you want to save (copy) the sound samples from the instrument to a computer and use them later without having to connect the instrument via USB.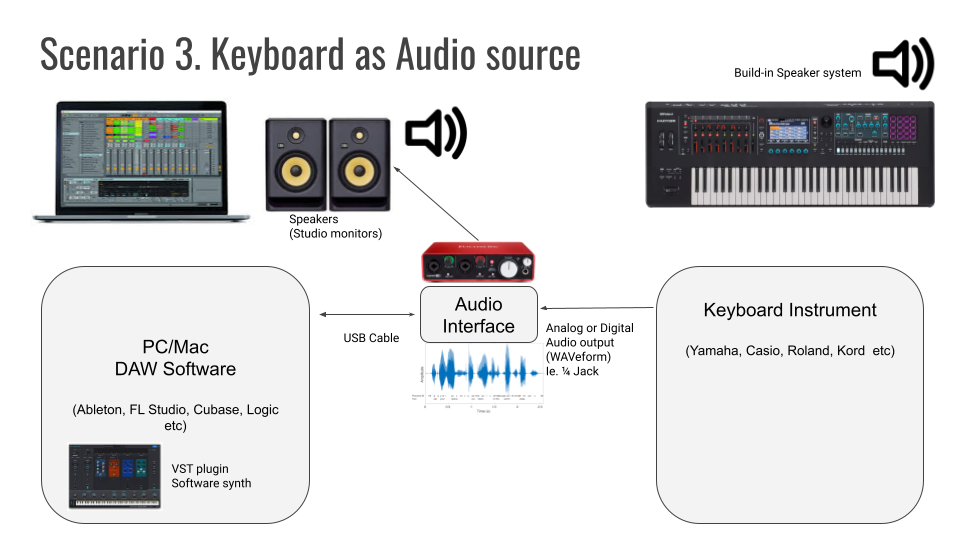 We grab audio samples, patterns and loops from keyboard instrument
We won't use MIDI at all
Speakers of PC will be used but Keyboard don't need to me muted
DAW will be used making final mix an arrangement.
Summary
I hope this post has convinced you, and maybe inspired you to get started exploring the area of DAW, PC and Keyboards. If you're still confused about the concepts and why I chose to write this, please check out start page of our tutorial section .
It was written to help get you into the game, but is not comprehensive or intended to explain everything that the music production and live performances provides you with. It should also give you a good idea about the general features of modern VST plug-ins for sound processing and playing live.